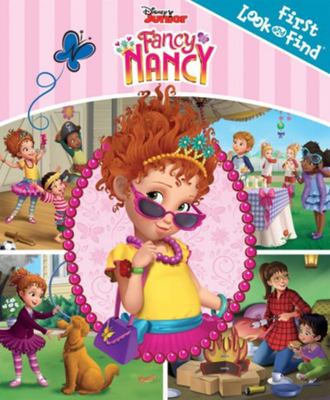 Disney Junior Fancy Nancy
by Kathy Broderick; Disney Storybook Art Team (Illustrator); Imaginism Studio (Illustrator)
$19.99
NZD
Category: Children's & Teenage Fiction | Series: Look and Find Ser.
Ooh-la-la! Join Nancy, Bree, JoJo and all your Fancy Nancy friends in this 8-book set. Each illustrated book takes you on an adventure that's fancy, funny, and fantastique! The books come packaged with a sleek Me Reader module that reads each book aloud. Choose a book, press the matching book and page b uttons on the module, and hear the whole story read aloud with fun and surprising sounds! Follow along in the book for an independent reading experience that builds confidence in beginning readers. Story sounds and expressive narration enhance reading comprehension. ...Show more
$18.99
NZD
Category: Thrillers | Series: Havenfall
A safe haven between four realms. The girl sworn to protect it - at any cost. Hidden deep in the mountains of Colorado lies the Inn at Havenfall, a sanctuary that connects ancient worlds--each with their own magic--together. For generations, the inn has protected all who seek refuge within its walls, a nd any who disrupt the peace can never return. For Maddie Morrow, summers at the inn are more than a chance to experience this magic first-hand. Havenfall is an escape from reality, where her mother sits on death row accused of murdering Maddie's brother. It's where Maddie fell in love with handsome Fiorden soldier Brekken. And it's where one day she hopes to inherit the role of Innkeeper from her beloved uncle. But this summer, the impossible happens--a dead body is found, shattering everything the inn stands for. With Brekken missing, her uncle gravely injured, and a dangerous creature on the loose, Maddie suddenly finds herself responsible for the safety of everyone in Havenfall. She'll do anything to uncover the truth, even if it means working together with an alluring new staffer Taya, who seems to know more than she's letting on. As dark secrets are revealed about the inn itself, one thing becomes clear to Maddie--no one can be trusted, and no one is safe . . . ...Show more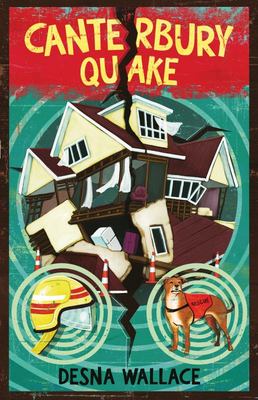 $18.99
NZD
Category: Children's & Teenage Fiction
An eleven year olds heartfelt account of life through the Canterbury quakes and shakes of 201011. In the dark of night, with a terrifying rumble and a deafening roar, Maddys world turns upside down! Instead of celebrating her birthday, suddenly words like liquefaction, aftershocks and state of emergency bubble into her vocabulary. As Maddy navigates the bumps and crashes of life after the big quakes, she discovers how strong family can be, and finds friendship in the most unlikely places.   ...Show more
$22.99
NZD
Category: Children's & Teenage Fiction
Revisiting once again the world of Raymie Nightingale, two-time Newbery Medalist Kate DiCamillo turns her focus to the tough-talking, inescapably tenderhearted Beverly. Beverly put her foot down on the gas. They went faster still. This was what Beverly wanted - what she always wanted. To get away. To ge t away as fast as she could. To stay away. Beverly Tapinski has run away from home plenty of times, but that was when she was just a kid. By now, she figures, it's not running away. It's leaving. Determined to make it on her own, Beverly finds a job and a place to live and tries to forget about her dog, Buddy, now buried underneath the orange trees back home; her friend Raymie, whom she left without a word; and her mom, Rhonda, who has never cared about anyone but herself. Beverly doesn't want to depend on anyone, and she definitely doesn't want anyone to depend on her. But despite her best efforts, she can't help forming connections with the people around her - and gradually, she learns to see herself through their eyes. In a touching, funny, and fearless conclusion to her sequence of novels about the beloved Three Rancheros, #1 New York Times best-selling author Kate DiCamillo tells the story of a character who will break your heart and put it back together again.   ...Show more
$14.99
NZD
Category: Children's & Teenage Fiction
Max Crack is new in Piddown. He decides that a new town means a new beginning and resolves to embark on a series of quests, such as: * Make a new best friend * Win a trophy * Solve a mystery * Find hidden treasure. He meets Frankie on his first day in town (Quest No. 1: tick). Now all he has to do is wi n a trophy, solve a mystery and find hidden treasure... The story is presented as Max's diary, and it's a visual feast: full of speech bubbles, doodles, asides, highlighted words, and crossed-out words. It's a stream of visual and verbal consciousness and captures the intriguingly chaotic mind of an 11-year-old perfectly. ...Show more
$17.99
NZD
Category: Children's & Teenage Fiction | Series: Naughty Dragons
In the Laidley Hundreds, dangerous wild dragons roam the Highlands. But dragons aren't born bad - just naughty!   When Ava and Jack's parents agree to foster two young dragons, the siblings can't believe their luck. But teaching a mischievous pair of dragons how to behave isn't easy, and Jack and Ava wi ll have their work cut out for them with Graun and Fafnine. They might look sweet, but don't let that fool you - these dragons can cause trouble like you wouldn't believe.  ​ Perfect for fans of How to Train Your Dragon and the surreal humour of David Walliams, Naughty Dragons is a highly visual series for readers 6+, packed with rollicking adventure, riotous laughs and oodles of mischief. ...Show more
$16.99
NZD
Category: Children's & Teenage Fiction | Series: Fartboy
The STINKIEST super hero EVER is about to meet his match. A lean, mean SPEWING machine is on the rampage... SPEWTANK is determined to take the shine off Sparkletown by covering everything in the chunkiest chunder EVER. Is this the end for the World's Tidiest Town? Not if Fartboy can help it! This clean- living farting fury is ready for his YUCKIEST battle yet. You'll be SPEWIN' if you miss it! ...Show more
$16.99
NZD
Category: Children's & Teenage Fiction | Series: Weirdo
HAPPY BIRTHDAY TO MEEEEE! Not only is it PLANET DAY, its also Weir Dos BIRTHDAY! And his partys going to be so HUGE youll see it from space! It wont be easy... but it will be FUNNY!
$16.99
NZD
Category: Children's & Teenage Fiction
It's a new year at Wayside School, and Mrs Jewls's class on the thirtieth floor has a LOT to deal with. First of all, they must prepare to face The Ultimate Test, which involves a fiendishly difficult Spelling Bee, upside-down singing and blindfolded smelling. Meanwhile the paperclips are triple-locked in a safe so no one can access them, Miss Mush is threatening to serve rainbow stew for lunch - and a CLOUD OF DOOM is gathering over the school. It can only mean one thing...... the kids at Wayside School are in for their strangest year yet! From the basement to the thirtieth floor, Wayside is packed with quirky and hilarious characters who are all brought to life in this brand-new instalment of Louis Sachar's much-loved Wayside School series. With brilliant illustrations throughout, this is an unmissable, irrepressible story of mixed-up mayhem from the bestselling author of Holes. ...Show more
$16.99
NZD
Category: Children's & Teenage Fiction | Series: Monty's Island
Monty lives on a perfect island in the middle of a magical sea. Sometimes the sea throws up something interesting ... and Monty goes on an amazing adventure! On a tiny island far away, in a sea that ripples with magic, Monty never knows what he might find… Monty, Tawny and friends receive some startling news: Scary Mary and her pirate crew are on their way, looking for a new island to call home. What can they do? There's no way they can hide - especially when Bunchy accidentally turns the whole island stripy with her new magic wand. It's going to take one of Monty's best ideas to save them! An adventurous and delightful new series from beloved author Emily Rodda, with lively illustrations by local legend Lucinda Gifford. ...Show more
$16.99
NZD
Category: Children's & Teenage Fiction
Brand-new action-packed series from international bestseller Robert Muchamore. A town. A forest. A hero. You can't go far without a quick brain and some rule-bending in a place like Locksley. After its vast car plants shut down, the prosperous town has become a wasteland of empty homes, toxic land and families on the brink. And it doesn't help that the authorities are in the clutches of profit-obsessed Sheriff of Nottingham, in cahoots with underworld boss Guy Gisborne. When his dad is framed for a robbery, Robin and his brother Little John are hounded out of Locksley and must learn to survive in the Sherwood forest, stretching three hundred kilometres and sheltering the free spirits and outlaws. But Robin is determined to do more than survive. Small, fast and deadly with a bow, he hatches a plan to join forces with Marion Maid, harness his inimitable tech skills and strike a blow against Gisborne and the Sheriff.   ...Show more
$16.99
NZD
Category: Children's & Teenage Fiction | Series: E-Boy
Part human. Part robot. All hero! Ethan is supposed to be doing regular teenage things - like playing sports and hanging out with friends. He is not supposed to be in hospital getting a brain tumour removed by Gemini, a high-tech android doctor. But just as the operation begins, the medical facility is hit by an unusual bolt of lightning… When Ethan wakes up he discovers that things are different. He's always been good with computers, but now his skills are next-level. Ethan almost feels like he's…part of the machine. And what about the android Gemini? If Ethan is now part robot, does that make the robot part human? Ethan will need all his new skills just to stay alive. An electrifying new adventure series from the bestselling author Anh Do. ...Show more