$15.99
NZD
Category: NZ Picture Books
A funny lift-the-flap story for Little Kiwi fans about pesky sounds and other 'reasons' not to get to sleep, by bestselling author Bob Darroch. Yikes, what's that noise? All Little Kiwi wants is to have a snooze, but his sister and her friend are having a sing-song. So off he goes to find a quiet spot for his nap. But there are other creatures making music, too . . . A funny and relatable tale for littlies about dealing with pesky sounds and other 'reasons' not to get to sleep, with Bob's signature humour always enjoyed on different levels by adults and kids. ...Show more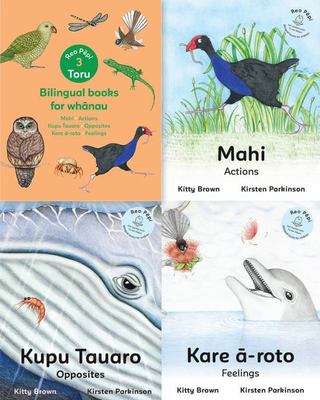 $49.99
NZD
Category: NZ Picture Books
Reo Pepi Toru Box set 3 introduces essential concepts for everyday use of Te Reo Maori and English. Includes three board books: Mahi (Actions) / Kupu Tauaro (Opposites) / Kare a-roto (Feelings)
$21.99
NZD
Category: NZ Picture Books
Wonky Donkey has a daughter with the same rambunctious spirit as her dad. Kids, parents and their loved ones will enjoy the hilarity and cumulative read-aloud fun. This cute little pint-sized donkey has beautiful long eyelashes, loves to listen to music, paints her hooves bright pink, sometimes has to g o pee-pee, loves to play piano, has a very cool spiky haircut . . . and sometimes smells a bit bad (like her Dad!). She's a blinky, funky, pinky . . . you know how it goes . . . dinky donkey! Wonky and Dinky become the perfect duo to get even more young children reading (and hopefully some more grandmothers, too)! ...Show more
$19.99
NZD
Category: NZ Picture Books
In the beginning were Ranginui the father, and Papatuanuku the mother. The dual language creation myth of Maori legend is simply told in Peter Gossage's vibrant style. Bold design and brief text recount the struggle of the children of Rangi and Papa as they try to part their parents and bring light to t he world. The reader is introduce to each of the children (Maori gods) and they role they play in the world. ...Show more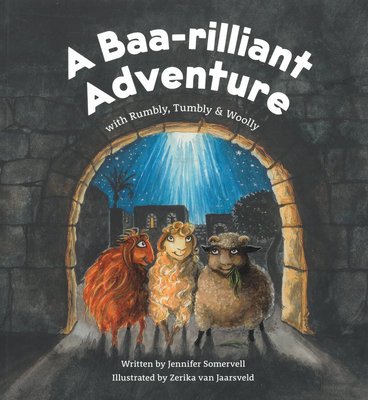 $21.95
NZD
Category: NZ Picture Books
A brilliant retelling of an ancient story. When an angel appears in a blaze of light, Rumbly, Tumbly and Woolly are terrified. But what happens to them when their excited shepherds run off to Bethlehem? An illustrated end section describes the historical setting in the ancient Middle East, the real nati vity, and sheep and shepherds of the time. "Beautifully illustrated and told with a dramatic twist" -Toni Shanks, Editor, Upstart magazine ...Show more
$20.00
NZD
Category: Picture Books
Search for clues hidden in the pictures and help Hound to solve the riddle in this delightful return to the world of Puffin the Architect.I'm Hound! And I'm a sleuth.I solve all types of cases.I sniff and snuff until my nosedetects the clues and traces.Missing jewels, stolen cars -I always solve the cri me.My latest case arrived by post.Ha ha - detecting time!This gorgeous, multi-layered and engaging whodunnit by an award-winning writer has a delightful surprise at the end. Readers will love studying each action-packed illustration, poring over the details of Hound's secret passages and map, spotting the adorable animals lurking in the pictures, and finding the caterpillar hidden on every page. ...Show more
$19.99
NZD
Category: Picture Books
The delightful rhyming story of Ruru and Kiwi, who host a midnight forest party for their friends, with award-winning illustrations. The Ruru and Kiwi went into the bush, wrapped snug in night's velvety black. They took some runny manuka honey tied up in a flax-woven sack. Drawing on a cast of nocturnal New Zealand creatures, with award-winning illustrations by Amy Haarhoff, Clare Scott's story imagines Edward Lear's famous nonsense poem taking place in a moonlit forest in Aotearoa. ...Show more

Rockin' Robin (PB)
by Jimmie Thomas; Jay Lag'aia (Performed by)
$21.99
NZD
Category: Picture Books
Tweedle-lee-deedle-lee-dee, tweedle-lee-deedle-lee-dee, tweet, tweet, tweet tweet! Bop along to this classic hit, sung by Jay Lagaaia.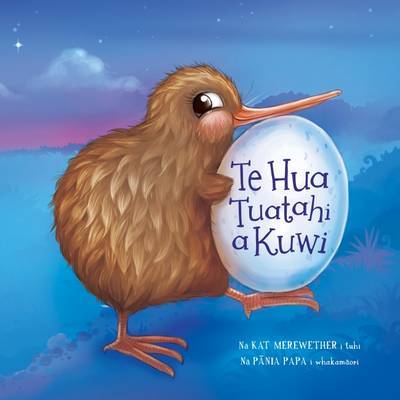 $19.99
NZD
Category: NZ Picture Books | Series: Kuwi the Kiwi
He kiwi ihupuku, he kiwi rangirua hoki a Kuwi. Kua whanau mai tana hua hou hei tiaki mana, i tana kotahi. Kaore ano ia kia tiaki hua... Kuwi is a young and confused kiwi who has found herself alone with her newly laid egg. She has never had an egg before... He paki ngahau, he paki whakaaroha tenei ma te kohungahunga. A funny and heart-warming story for the early learner. ...Show more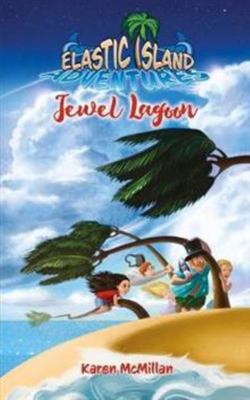 $20.00
NZD
Category: Picture Books | Reading Level: near fine
Four children, Kiri, Jed, and twins Emma and Ethan, discover an `elastic' island that can send them pinging across the ocean to a variety of tropical island destinations. Landing at Jewel Lagoon on Trinity Island, the children quickly nd themselves in trouble. But even with help from the colourful creat ures they meet - Pangali the Platypus, Olaf the Giant, and Big Wig and Wee Wig Knockulous - will they be able to return home safely? ...Show more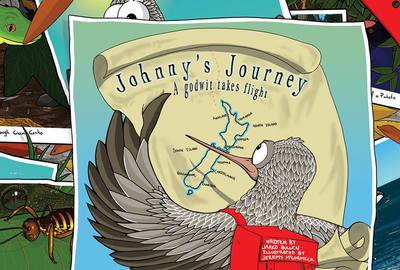 $25.00
NZD
Category: Picture Books
Johnny the godwit makes an epic journey from Alaska to New Zealand, meeting some new friends along the way.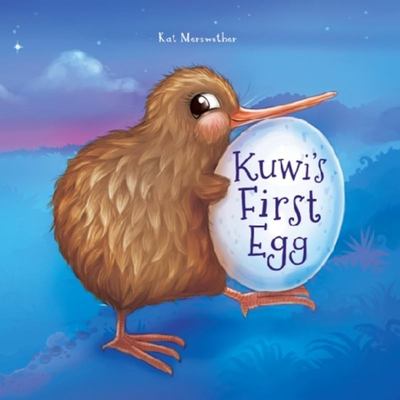 $19.99
NZD
Category: NZ Picture Books | Series: Kuwi the Kiwi
Find out how Kuwi the Kiwi looks after her newly laid egg. She knits a scarf, sings a waiata and takes it out to play but Egg doesn't seem too impressed. When the egg begins to crack Kuwi thinks she has not done a very good job - what can she do? Read this delightful imaginary story about a clueless kiw i looking after her egg. ...Show more