$18.00
NZD
Category: Adult Colouring-In | Series: Colour Your Way Ser.
Colour Your Way: Botanicals by Edith Rewa is a gorgeous colouring book showcasing the unique flora of Australia as seen through the eyes of textile designer and illustrator Edith Rewa. Includes 80 pages of blank colouring-in artwork to help you find mindfulness through nature's beauty.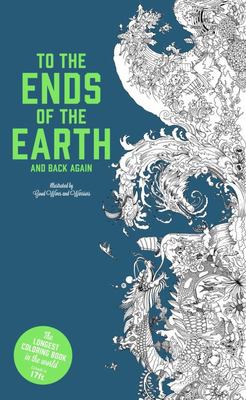 $19.99
NZD
$21.99
(9% off)
Category: Adult Colouring-In
Come on a new magical colouring adventure, from your home right the way to the ends of the earth! Colour your way through a riotous world of dragons, witches, lagoons, mountains and deserts, inspired by folk tales and landscapes from around the globe. With a beautiful scene that folds horizontally and s tretches to an amazing 17 feet (5 metres), this is the longest colouring adventure in the world! ...Show more
$19.99
NZD
Category: Adult Colouring-In
Tiptoe through the wildflowers to discover a world of intricate botanical illustrations, courtesy of botanical master, Adriana Picker. These unique Australian floral shapes are beautifully rendered on the page, allowing you to sit back and immerse yourself in nature as you enjoy the therapeutic benefits of this popular artistic pastime. ...Show more
$24.99
NZD
Category: Adult Colouring-In
Epic doodler Kerby Rosanes allows his wildest imaginings to come to life as he creates microcosms of strange realities with his own unique twist. Enchanting realms and entire universes are transported to strange and wonderful new habitats and a hidden magic key 'unlocks' the next world.   Viking ships set sail through the eyes of a skull, an open book has a steampunk city rising from its pages and a giant tortoise carries a haunted house on its shell - all for you to bring to life in colour. ...Show more
$27.99
NZD
Category: Adult Colouring-In
Wondermorphia combines artwork from Fantomorphia and Geomorphia into one edition. Enter the enchanting fantasy worlds of epic doodler Kerby Rosanes, with scenes and animals inspired by gothic grandeur and the natural landscape. From clockwork dragons and vine-entangled pumpkins, to fiery foxes erupting from volcanoes and fairy-tale castles growing out of crystal foundations - there's plenty for you to bring to life with colour. As an extra challenge, seek out the search items at the back of the book. There's more to discover within these pages than you ever dreamed possible. On top of the success of Animorphia, Imagimorphia and Mythomorphia, Kerby's detailed doodle skills have already earned him a solid fan base. He has over 1 million followers on Instagram, his Sketchy Stories Facebook page has more than 2 million likes, and he has over 500K project views on Behance. ...Show more
$12.99
NZD
Category: Adult Colouring-In | Series: Millie Marotta
A wonderful portable edition of Millie Marotta's Curious Creatures from the the Sunday Times and international bestseller Millie Marotta. Lose yourself in the fascinating world of Millie's Curious Creatures. Millie has researched beasts of all shapes and sizes from all over the world, and illustrated t hose with amazing survival skills, intriguing behaviours and - of course - beautiful plumage and patterns.  Millie's intricate style of illustration encourages you to make your own mark, whether it's adding colour to a mandarinfish or adding feathers to a kiwi. There's the mimic octopus and the giant squid, the sleepy sloth and the long-eared jerboa, even the otherwordly narwhal - all waiting to be brought alive with glorious colour. Now in a handy pocket size, this book is perfect for anyone looking for a creative outlet or a mindful and relaxing activity on the go.   ...Show more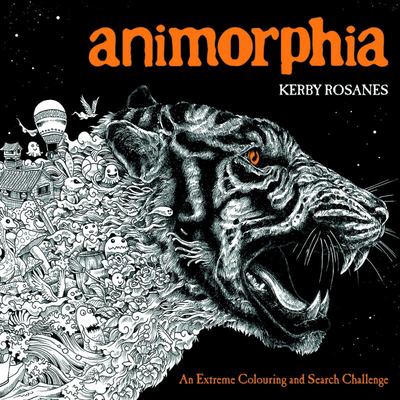 $22.99
NZD
Category: Adult Colouring-In | Series: Kerby Rosanes Extreme Colouring Ser.
Welcome to this weird and wacky colouring challenge. There are pictures to colour in, drawings to complete, spaces to scribble in and lots of things to find in these super-detailed doodles by artist Kerby Rosanes. Featuring unique and intricate ink drawings of incredible animals, shape-shifting aliens a nd breathtaking scenes. Readers will have to keep their eyes peeled for hidden treasures and creatures scattered throughout the pages. ...Show more
$22.99
NZD
Category: Adult Colouring-In
While there are adult colouring books of every description available this book is drawn from the science behind using colouring to reduce stress. The fact is our brains get overwhelmed at times by the speed of life and bombardment of information. It is essential for our health and wellbeing to be able to draw upon our own resources to deal with stress when it comes along.  Brain Science provides an easily used meditative technique to relax - which everyone can do - by using the unique technique of PATTERN, REPETITION, SINGLE FOCUS and CREATIVITY with no COMPETITIVE pressure in colouring-in. Brain Science taps into your own powerful inner resources controlled by your brain, to combat stress by engaging in an activity it remembers as both creative and relaxing - colouring in a meditative way that moves your brain to a more restful state. Allow the mind to relax and enjoy the meditative qualities that come from these exercises which thousands have already done and enjoyed the benefits. ...Show more
$22.99
NZD
Category: Adult Colouring-In
Anti-stress: meditation through colouring provides an easily used meditative technique to relax - which everyone can do - by using the unique technique of PATTERN, REPETITION, SINGLE FOCUS and CREATIVITY with no COMPETITIVE pressure in colouring-in. Anti-stress taps into your own powerful inner resource s controlled by your brain, to combat stress by engaging in an activity it remembers as both creative and relaxing - colouring in a meditative way that moves your brain to a more restful state. Our brains can often be overwhelmed by the speed of life and bombardment of information. It is essential for our health and wellbeing to be able to draw upon our own resources to deal with stress when it comes along. While there are colouring books of every description available, Anti-stress is drawn from the science behind using colouring to reduce stress.   ...Show more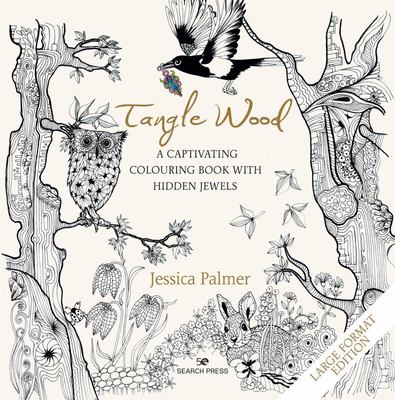 $24.99
NZD
Category: Adult Colouring-In
Illustrator and papercutter, Jessica Palmer, has created 80 pages of enchanting hand-drawn pictures for you to colour and lose yourself in. The images all have a magical woodland theme, and each one includes a hidden jewel, intricately worked into the design, which will include rings, brooches, pendants , chains, bracelets and earrings featuring insects, animals and leafy patterns. The book includes designs that fit on a single page as well as those that extend across a double-page spread. Some of the designs fill the entire page and others sit within it. Others have space left for the reader to extend the design themselves. ...Show more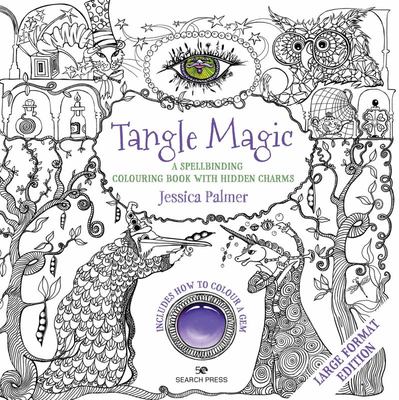 $24.99
NZD
Category: Adult Colouring-In
Jessica Palmer, illustrator and papercutter, has created 75 pages of enchanting hand-drawn pictures for you to colour and lose yourself in. The images all have a magical theme, and each one includes a hidden charm intricately worked into the design for readers to discover and colour in. The book will in clude designs that fit on a single page as well as those that extend across a double-page spread. Some of the designs fill the entire page and others sit within it. There is also a page on 'how to colour a gem'. High quality paper means that there is no show-through. ...Show more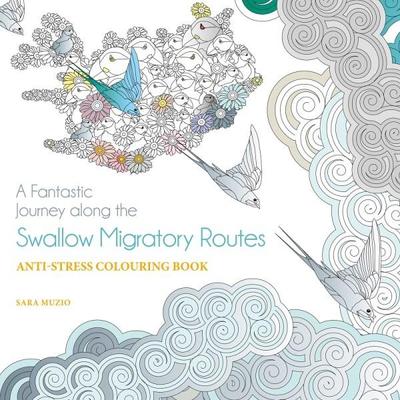 $21.99
NZD
Category: Adult Colouring-In
Swallows are widely spread across the five continents and their coming back in the skies, at the end of their annual migration route, marks the change of season in the collective imagination. In this coloring book, featuring drawings by Sara Muzio, an artist with a ten-year-long experience in graphic an d design, you will follow a swallow's journey all over the world and discover different environments. This black-and-white bird will link all pages, while the various environments will be represented by animals and plants drawn in silhouette, figures that together will mark the boundaries of the region where the swallow will be traveling. Rich in precious details and elegant in style, these drawings can be coloured in pencil or marker pen according to your personal fantasy and taste, spending many free hours in a very relaxing and pleasant activity. To top it off, there is a game in the game: in every drawing you can find another animal hidden in the page. Your achievement through colours, being so unique and personal, can be proudly displayed and will represent an antidote to everyday stress. ILLUSTRATOR: Sara Muzio has over ten years of experience working in graphic design and illustration. In 2002, after earning a degree in Medical Illustration, she began working for small graphic design studios and in 2004 she became the scientific illustrator for Lumen Edizioni, where she completed a postgraduate course on publishing and advertising graphics. From 2005 to 2011, Sara worked as a freelance graphic designer for private clients as well as public entities and publishing houses. From 2011 to 2013, she was the graphic and packaging designer for Sambonet Paderno Industrie S.p.a. She currently works as a freelance graphic designer and as the Marketing Assistant for "La Salute nel Sale", a halotherapy centre with locations in Vercelli and Casale, Italy. In addition to the illustrations found in this book, she created those for 'Flower Fantasy' and 'Hidden in the Jungle' for White Star Publishers ...Show more