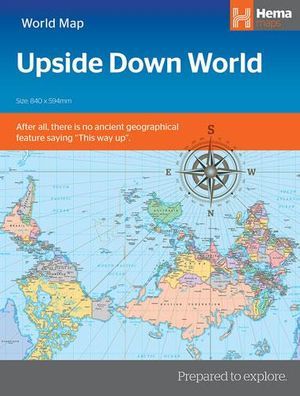 $11.99
NZD
Category: Atlasses & Maps
Upside down world. Traditional world maps are drawn from the perspective of the first European explorers and cartographers - with the Northern Hemisphere at the top. We think it's time to break with tradition and show the world from the perspective of all those people living in the southern Hemisphere. After all, there is no ancient geographical feature saying "This way up". ...Show more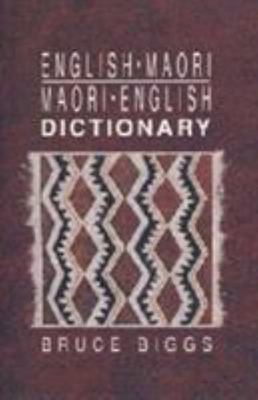 $19.99
NZD
Category: Dictionaries
This English-Maori and Maori-English dictionary has over 4000 entries in each section. It provides information on parts of speech; practical help with pronunciation of Maori words; and it relates to contemporary life by including words from English commonly used by today's Maori speakers.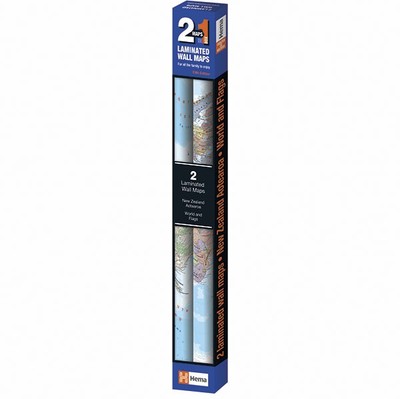 $34.99
NZD
Category: Atlasses & Maps
A laminated country map of New Zealand at a scale of 1:1,200,000 that is ideal as a wall map plus a world map at scale pf 1:32,000,000 with flags.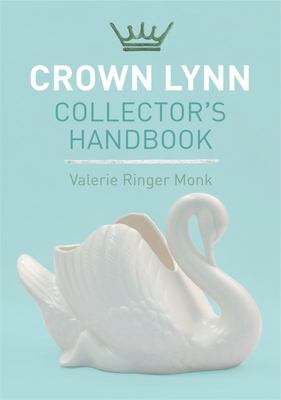 $34.99
NZD
Category: Reference
Valerie Ringer Monk's meticulously researched Crown Lynn Collector's Handbook will provide seasoned Crown Lynn devotees and new collectors alike with plenty to assist their endeavours - this comprehensive guide to New Zealand's iconic pottery range features the collectible items themselves and also the backstamps that identify them. A-Z listings of more than 300 Crown Lynn products include photographs of representative designs as well as their distinctive backstamps and marks to help collectors correctly identify and appreciate the origins of a huge diversity of Crown Lynn items produced over more than 50 years. Dimensions and dates are given for each entry, and the items are brought to life with fascinating snippets of Crown Lynn history, making this indispensable collector's guide an entertaining read. This is the essential reference for anyone investing in everyday Crown Lynn domestic products through to figurines, artware and hand-potted pieces.Whether your preference is for quirky styles or more practical household items, in this handbook you'll discover new treasures to fossick for in second-hand shops or line. ...Show more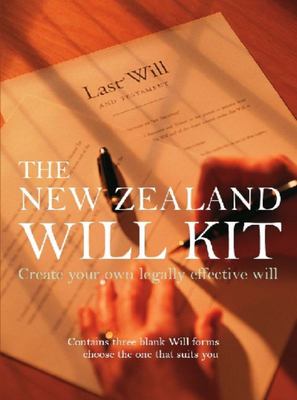 $19.99
NZD
Category: Reference
Making a will is a vital and responsible task but is often put off because the process appears so complicated. The New Zealand Will Kit sets out to change that. It itemises in clear, easy language what the reader needs to know about preparing a list of assets, identifying possible beneficiaries, and est ablishing an executor. Included in the book are three perforated blank wills (for a single person, a married person with children and a married person without children), so that readers can make their own will and tailor it to their individual circumstances. If instead they choose to consult a solicitor, The New Zealand Will Kit equips them with the knowledge to help them ask all the right questions for peace of mind. ...Show more
$12.99
NZD
Category: Reference | Series: The Stuff You Wish You'd Been Taught at School
How many times have you wished that your history stretched all the way back to Greek and Roman myths and legends? Or that you'd been taught Latin at school? Or perhaps you wish you knew all about the great inventions and medical developments that have made our world what it is today? A "Classical Educat ion" provides all of these classical facts that modern schooling leaves out and many more. Perfect for parents who wish to teach their children and for those who would like to learn or relearn the facts themselves, "A Classical Education" is informative and educational, but above all accessible. It includes: Latin and Greek; Logic and philosophy; Natural sciences; Art and architecture; Poetry and drama; History and Classical literature. Also including suggestions for further reading and entertaining tit-bits of information on the classics, "A Classical Education" is a must for anyone feeling let down by modern schooling. ...Show more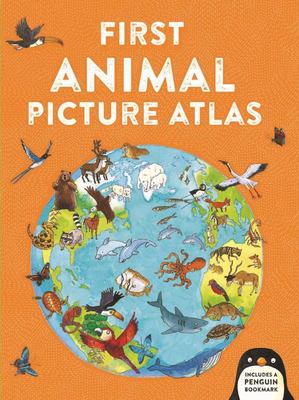 $24.99
NZD
Category: Atlasses & Maps | Series: First Kingfisher Picture Atlas
Beautifully illustrated by children's artist Anthony Lewis, with lively age appropriate text, this first atlas explains where animals come from and how they live in their habitats. An adorable penguin-shaped bookmark takes readers on a journey around the globe, helping them identify animals in an absorb ing look-and-find game. In addition to the colorful maps showing the world's continents, superb full-page illustrations take readers deeper into the different habitats to provide an early introduction to the basics of ecosystems. This atlas will delight young children and is the perfect reference book for both home and school. ...Show more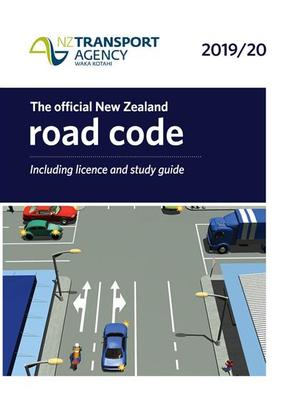 $25.50
NZD
Category: Reference
The New Zealand Road codes have been updated. There are no major content changes. There are some minor changes which include an update of test guides to reflect current test guidelines, an update to driver licensing system requirements and formatting changes to make the road codes easier to read.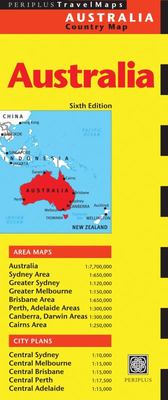 $14.99
NZD
Category: Atlasses & Maps | Series: Periplus Maps Ser.
The Australia Travel Map from Periplus is designed as a convenient, easy-to-use tool for travelers. Created using durable coated paper, this map of Australia is made to open and fold multiple times, whether it's the entire map that you want to view or one panel at a time.   Following highways and by ways, this Australia map will show you how to maneuver your way to banks, gardens, hotels, golf courses, museums, monuments, restaurants, churches and temples, movie theaters, shopping centers and more   This 6th edition includes area maps and city plans that are scaled to: Australia 1:7,700,000 Sydney Area 1:650,000 Greater Sydney 1:120,000 Greater Melbourne 1:150,000 Brisbane Area 1:650,000 Perth Area 1:300,000 Adelaie Area 1:300,000 Canberra 1:300,000 Darwin Area 1:300,000 Cairns Area 1:250,000 Central Sydney 1:10,000 Central Melbourne 1:15,000 Central Brisbane 1:15,000 Central Perth 1:17,500 Central Adelaide 1:15,000 Periplus Travel Maps cover most of the major cities and travel destinations in the Asia-Pacific region. The series includes an amazing variety of fascinating destinations, from the multifaceted subcontinent of India to the bustling city-state of Singapore and the 'western style' metropolis of Sydney to the Asian charms of Bali. All titles are continuously updated, ensuring they keep up with the considerable changes in this fast-developing part of the world. This extensive geographical reach and attention to detail mean that Periplus Travel Maps are the natural first choice for anyone traveling in the region. ...Show more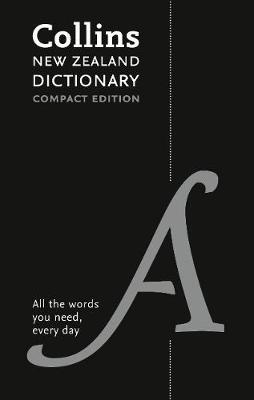 $39.99
NZD
Category: Dictionaries
In colour, and packed with fascinating features on language, Collins New Zealand Compact Dictionary is the ideal handy reference for people who love language. With extended word histories, surprising folk etymologies, notes on words borrowed from other languages, and a fantastic supplement, this thought fully designed dictionary is large enough to include all the words and definitions you need, but small enough to hold in one hand. With a clear colour design and easy-to-use layout, browsing is easier than ever. All in all the perfect book for crossword solvers, word-game enthusiasts, and anyone with a passion for English. ...Show more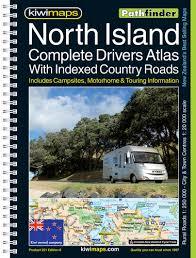 $34.99
NZD
Category: Atlasses & Maps
Kiwimaps most comprehensive road map of New Zealand's North Island rural road network. Large scale, easy to read text with easy to identify tourist features. Includes Regional, main city & town centre enlargements, also motorhome and touring information.
$32.00
NZD
Category: Dictionaries
The Raupo Pocket Dictionary of Modern Maori is a portable reference source for speakers of English and Maori at all levels. This new edition has been fully revised by the author. It features: More than 20,000 entries divided into Maori-English and English-Maori sections -- The most frequently used words in both languages -- A guide to Maori grammar and pronunciation -- A list of common phrases in Maori -- A map of tribal areas, helpful for understanding linguistic variations -- Separate lists of key vocabulary and proverbs -- Indexed pages for quick consultation. ...Show more