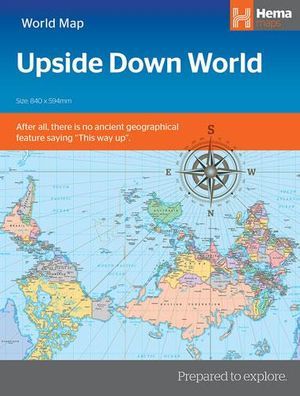 $11.99
NZD
Category: Atlasses & Maps
Upside down world. Traditional world maps are drawn from the perspective of the first European explorers and cartographers - with the Northern Hemisphere at the top. We think it's time to break with tradition and show the world from the perspective of all those people living in the southern Hemisphere. After all, there is no ancient geographical feature saying "This way up". ...Show more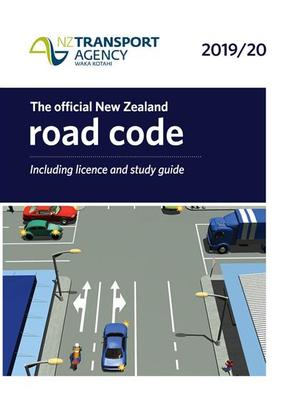 $25.50
NZD
Category: Reference
The New Zealand Road codes have been updated. There are no major content changes. There are some minor changes which include an update of test guides to reflect current test guidelines, an update to driver licensing system requirements and formatting changes to make the road codes easier to read.

$11.99
NZD
Category: Atlasses & Maps
The World map including a New Zealand enlargement with indexed country names and major cities. Great for reference and study. This map folds out for a perfect wall map....
$12.99
NZD
Category: Reference | Series: The Stuff You Wish You'd Been Taught at School
How many times have you wished that your history stretched all the way back to Greek and Roman myths and legends? Or that you'd been taught Latin at school? Or perhaps you wish you knew all about the great inventions and medical developments that have made our world what it is today? A "Classical Educat ion" provides all of these classical facts that modern schooling leaves out and many more. Perfect for parents who wish to teach their children and for those who would like to learn or relearn the facts themselves, "A Classical Education" is informative and educational, but above all accessible. It includes: Latin and Greek; Logic and philosophy; Natural sciences; Art and architecture; Poetry and drama; History and Classical literature. Also including suggestions for further reading and entertaining tit-bits of information on the classics, "A Classical Education" is a must for anyone feeling let down by modern schooling. ...Show more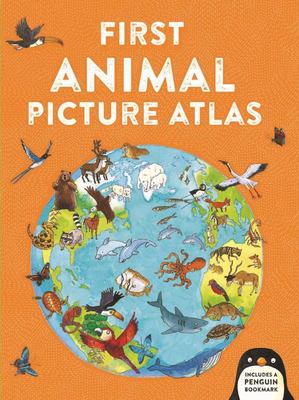 $24.99
NZD
Category: Atlasses & Maps | Series: First Kingfisher Picture Atlas
Beautifully illustrated by children's artist Anthony Lewis, with lively age appropriate text, this first atlas explains where animals come from and how they live in their habitats. An adorable penguin-shaped bookmark takes readers on a journey around the globe, helping them identify animals in an absorb ing look-and-find game. In addition to the colorful maps showing the world's continents, superb full-page illustrations take readers deeper into the different habitats to provide an early introduction to the basics of ecosystems. This atlas will delight young children and is the perfect reference book for both home and school. ...Show more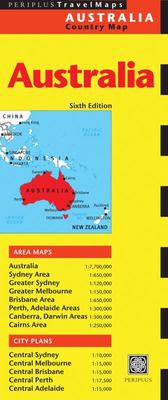 $14.99
NZD
Category: Atlasses & Maps | Series: Periplus Maps Ser.
The Australia Travel Map from Periplus is designed as a convenient, easy-to-use tool for travelers. Created using durable coated paper, this map of Australia is made to open and fold multiple times, whether it's the entire map that you want to view or one panel at a time.   Following highways and by ways, this Australia map will show you how to maneuver your way to banks, gardens, hotels, golf courses, museums, monuments, restaurants, churches and temples, movie theaters, shopping centers and more   This 6th edition includes area maps and city plans that are scaled to: Australia 1:7,700,000 Sydney Area 1:650,000 Greater Sydney 1:120,000 Greater Melbourne 1:150,000 Brisbane Area 1:650,000 Perth Area 1:300,000 Adelaie Area 1:300,000 Canberra 1:300,000 Darwin Area 1:300,000 Cairns Area 1:250,000 Central Sydney 1:10,000 Central Melbourne 1:15,000 Central Brisbane 1:15,000 Central Perth 1:17,500 Central Adelaide 1:15,000 Periplus Travel Maps cover most of the major cities and travel destinations in the Asia-Pacific region. The series includes an amazing variety of fascinating destinations, from the multifaceted subcontinent of India to the bustling city-state of Singapore and the 'western style' metropolis of Sydney to the Asian charms of Bali. All titles are continuously updated, ensuring they keep up with the considerable changes in this fast-developing part of the world. This extensive geographical reach and attention to detail mean that Periplus Travel Maps are the natural first choice for anyone traveling in the region. ...Show more
$18.99
NZD
Category: Reference
The essential companion for the dedicated Mah Jong player who also enjoys the social aspect of the game.   Since the arrival on the market of Patricia Thompson and Betty Maloney's two previous books, The Game of Mah Jong Illustrated and Improve Your Mah Jong, a wide range of hands from many parts of the world has been sent to them. In this player's companion, the authors have put together a cross-filed reference guide where more than 120 hands, illustrated in color, can be quickly identified by following the flip-top headings on each page. A full synopsis of each hand is included. The extra hands give an international flavor to the book, adding new interest and challenges. ...Show more
$32.00
NZD
Category: Dictionaries
The Raupo Pocket Dictionary of Modern Maori is a portable reference source for speakers of English and Maori at all levels. This new edition has been fully revised by the author. It features: More than 20,000 entries divided into Maori-English and English-Maori sections -- The most frequently used words in both languages -- A guide to Maori grammar and pronunciation -- A list of common phrases in Maori -- A map of tribal areas, helpful for understanding linguistic variations -- Separate lists of key vocabulary and proverbs -- Indexed pages for quick consultation. ...Show more
$29.99
NZD
Category: Atlasses & Maps | Series: Lonely Planet Kids
Bringing planet earth to life, this colourful and fun addition to Lonely Planet Kids takes you on a trip around the world that you'll never forget. Filled with continental and regional maps, lively text, an entry for every country on the planet, plus mind-blowing facts, and an emphasis on the species th at live on our planet, this is an essential resource for young readers wanting to learn about the world. With 240 pages of illustrated maps, engaging infographics, mind-blowing photography and a large dose of humour, this fun and informative world guide, written by children's author and wildlife enthusiast Alexa Ward, is the definitive guide to what our planet is really like.  From exploration of indigenous peoples all over the globe, to illustrations of festivals in Brazil and each country's individual history, young readers will be enticed to go on a journey to some of the furthest corners of the globe, learning intriguing facts as they go. Take a trip around the world that you'll never forget with the Amazing World Atlas! About Lonely Planet Kids: Lonely Planet Kids - an imprint of the world's leading travel authority Lonely Planet - published its first book in 2011. Over the past 45 years, Lonely Planet has grown a dedicated global community of travellers, many of whom are now sharing a passion for exploration with their children. Lonely Planet Kids educates and encourages young readers at home and in school to learn about the world with engaging books on culture, sociology, geography, nature, history, space and more. We want to inspire the next generation of global citizens and help kids and their parents to approach life in a way that makes every day an adventure. Come explore!   ...Show more
$27.99
NZD
Category: Dictionaries | Series: Collins School Ser.
The perfect language companion for all students aged 11+. With a clear and highly legible design throughout, it is easy to use and full of useful features to help build language confidence at school and help with homework and revision. This new hardback edition has been developed with teachers to be the perfect school dictionary for in class and for homework. The clear layout makes finding entries exceptionally easy, and full definitions are given in simple language, often in complete sentences. With over 20,000 entries, many new or updated, it includes the school national curriculum vocabulary up to Key Stage 3 and GCSE as well as general vocabulary for students aged 11+. A special section on spelling follows the main dictionary. It outlines key spelling rules and lists words that are commonly confused or misspelled, so it helps students to identify and master the trickiest spelling problems. This user-friendly dictionary is an invaluable reference for all school students. ...Show more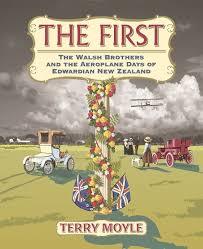 $49.99
NZD
Category: Reference | Reading Level: near fine
For the first time the true story of New Zealand's first successful aeroplane flights and the people behind them. Extensive research provides new understanding of historic events and corrects more than a hundred years of history with a starting account of what really happened in 1911 and how Manurewa, t he first aeroplane to fly, became 'lost'. Considered New Zealands 'Wright brothers' Leo and Vivian Walsh were part of a small group of remarkable men and women pioneering motorised transport in the 1900's. The First is the compelling story of a generation including well-known Edwardians, George Henning, Reuben Dexter and the missing early years of international Art Deco designer, Keith Murray. The author does not neglect the careers of the Walsh sisters Veronica and Doreen with their connections to women aviators Jean Batten, and Gladys Henning-Sandford, radio pioneer Aunt Daisy and Evelyn Purchas, likely the first New Zealand woman in active service to lose her life in World war One. The First addresses tobacco cultivation and manufactoring in the 1870's, the Victorian bicycle craze, the first motorcars, the Glenora Park Flights and the upheaval of war then its aftermath when aeroplane flight would be experienced bu ordinary New Zealanders.   Terry Moyle's dedication to identifying and dating historic photographs and searching for never-before-seen images complement an authoritative text. As with his previous titles, Art Deco Airports and Art Deco New Zealand, masterly illustration by Rosie Louise and amazing maps instill the spirit of the age in this important history book. ...Show more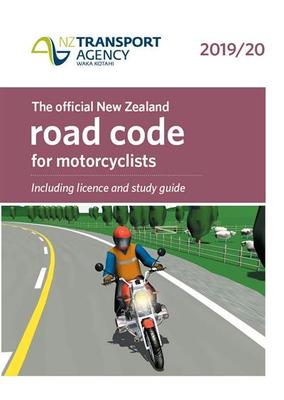 $25.50
NZD
Category: Reference
The official New Zealand road code for motorcyclists is a user-friendly guide to New Zealands traffic law and safe driving practices. You will be tested on this information in your theory and practical driving tests. This guide is intended for riders of motorcycles. Light vehicle drivers should read The Official New Zealand Road Code. Heavy vehicle drivers should read The Official New Zealand Road Code for Heavy Vehicle Drivers. Publication date: 2019-07-29 Number of pages: 322 Publisher: NZ Transport Agency Waka Kotah Subjects: Category, Non-fiction, Medicine, Health And Personal Development, Self-help / Personal Development, Roadcraft, Driving & The Highway Code, Published in New Zealand ...Show more