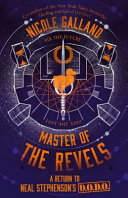 $34.99
NZD
Category: Science Fiction | Series: The\Rise and Fall of D. O. D. O. Ser.
In this brilliant sequel to The Rise and Fall of D.O.D.O.-- the enthralling, history-bending adventure traversing time and space, fact and fiction, magic and science co-written with #1 New York Times bestselling author Neal Stephenson--a daring young time traveler must return to Jacobean England to save the modern world. This fast-paced sequel to the near-future adventure The Rise and Fall of D.O.DO. picks up where the original left off, as Tristan Lyons, Mel Stokes, and their fellow outcasts from the Department of Diachronic Operations (D.O.D.O.) fight to stop the powerful Irish witch Gráinne from using time travel to reverse the evolution of all modern technology.  Chief amongst Gráinne's plots: to encrypt cataclysmic spells into Shakespeare's "cursed" play, Macbeth. When her fellow rogue agents fall victim to Gráinne's schemes, Melisande Stokes is forced to send Tristan's untested, wayward sister Robin back in time to 1606 London, where Edmund Tilney, the king's Master of Revels, controls all staged performances in London. And now Gráinne controls Tilney.  While Robin poses as an apprentice in Shakespeare's Globe Theatre, Mel travels to the ancient Roman Empire and, with the help of double-agent Chira in Renaissance Florence, untangles the knotted threads of history while the diabolical Gráinne jumps from timeline to timeline, always staying frustratingly one step ahead--or is it behind? Historical objects disappear, cities literally rise and fall, and nothing less than the fate of humanity is at stake. As Gráinne sows chaos across time and space, the ragtag team of ex-D.O.D.O. agents must fix the past--in order to save the future. ...Show more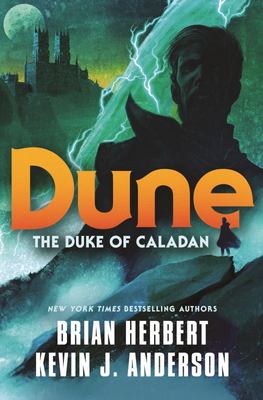 $37.00
NZD
Category: Science Fiction
A legend begins in Dune: Duke of Caladan - first in the Caladan Trilogy which will lead into the events of the original Dune.   Leto Atreides, Duke of Caladan and father of the Muad'Dib. While all know of his fall and the rise of his son, little is known about the quiet ruler of Caladan and his partner Jessica. Or how a Duke of an inconsequential planet earned an emperor's favor, the ire of House Harkonnen, and set himself on a collision course with his own death. This is the story.      Through patience and loyalty, Leto serves the Golden Lion Throne. Where others scheme, the Duke of Caladan acts. But Leto's powerful enemies are starting to feel that he is rising beyond his station, and House Atreides rises too high. With unseen enemies circling, Leto must decide if the twin burdens of duty and honor are worth the price of his life, family, and love. ...Show more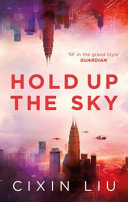 $35.00
NZD
Category: Science Fiction
From the author of The Three-Body Problem, a collection of award-winning short stories - a breathtaking selection of diamond-hard science fiction. Liu's writing takes the reader to the edge of the universe and the end of time, to meet stranger fates than we could have ever imagined. With a melancholic and keen understanding of human nature, Liu's stories show humanity's attempts to reason, navigate and, above all, survive in a desolate cosmos. Stories included are: 1. The Village Teacher. 2. The Time Migration. 3. 2018-04-01. 4. Fire in the Earth. 5. Contraction. 6. Mirror. 7. Ode to Joy. 8. Full Spectrum Barrage Jamming. 9. Sea of Dreams. 10. Cloud of Poems. 11. The Thinker. 'Cixin's trilogy is SF in the grand style, a galaxy-spanning, ideas-rich narrative of invasion and war' GUARDIAN. 'Wildly imaginative, really interesting ... The scope of it was immense' BARACK OBAMA, 44th President of the United States. ...Show more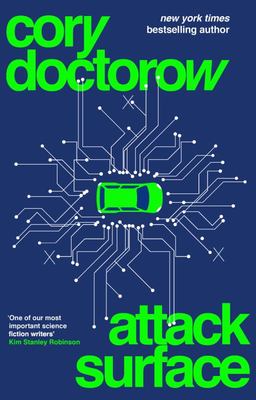 $35.00
NZD
Category: Science Fiction
Cory Doctorow'sAttack Surface is a standalone novel set in the world of New York Times bestsellersLittle Brother andHomeland. Most days, Masha Maximow was sure she'd chosen the winning side. In her day job as a counterterrorism wizard for an transnational cybersecurity firm, she made the hacks that al lowed repressive regimes to spy on dissidents, and manipulate their every move. The perks were fantastic, and the pay was obscene. Just for fun, and to piss off her masters, Masha sometimes used her mad skills to help those same troublemakers evade detection, if their cause was just. It was a dangerous game and a hell of a rush. But seriously self-destructive. And unsustainable. When her targets were strangers in faraway police states, it was easy to compartmentalize, to ignore the collateral damage of murder, rape, and torture. But when it hits close to home, and the hacks and exploits she's devised are directed at her friends and family--including boy wonder Marcus Yallow, her old crush and archrival, and his entourage of naïve idealists--Masha realizes she has to choose. And whatever choice she makes, someone is going to get hurt. ...Show more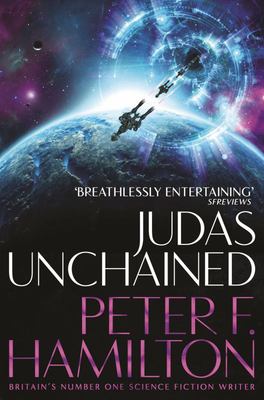 $24.99
NZD
Category: Science Fiction | Series: Commonwealth Saga Ser.
Judas Unchained concludes the Commonwealth Saga duology by Peter F. Hamilton - one of the world's bestselling science fiction writers. Our worlds are under invasion - and only the impossible can save us now For hundreds of years, the human race has been manipulated into starting a war. And it's one that could destroy our entire civilization. Chief Investigator Paula Myo is nominated to hunt the creature behind this ploy, while our invasion continues and multiple worlds fall to the enemy. In response, Admiral Kime commands humanity's defense, marshaling war-ready super-weapons. Yet he discovers his adversaries wield equally powerful armaments. The question is - where did these come from? Has the Commonwealth's top-secret defense project been compromised, or is the truth even worse than we can imagine? The Commonwealth Saga starts with Pandora's Star. 'If Pandora's Star represented a return to form, Judas Unchained is even better' - Guardian ...Show more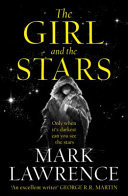 $35.00
NZD
Category: Science Fiction | Series: The\Girl and the Stars Ser.
From the critically-acclaimed author of PRINCE OF FOOLS comes a chilling new epic fantasy series. 'If you like dark you will love Mark Lawrence. And when the light breaks through and it all makes sense, the contrast is gorgeous' ROBIN HOBB Only when it's darkest can you see the stars. East of the Black Rock, out on the ice, lies a hole down which broken children are thrown On the vastness of the ice there is no room for individuals. No one survives alone. To resist the cold, to endure the months of night when even the air itself begins to freeze, requires a special breed. Variation is dangerous, difference is fatal. And Yaz is different. Torn from her family, from the boy she thought she would spend her life with, Yaz has to carve a new path for herself in a world whose existence she never suspected. A world full of danger. Beneath the ice, Yaz will learn that Abeth is older and stranger than she had ever imagined.  She will learn that her weaknesses are another kind of strength. And she will learn to challenge the cruel arithmetic of survival that has always governed her people. Only when it's darkest can you see the stars.     ...Show more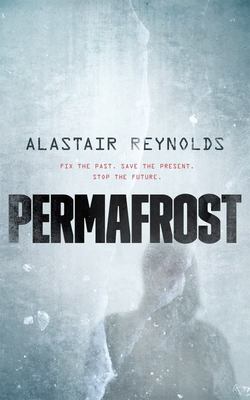 Permafrost
by Alastair Reynolds
$27.99
NZD
Category: Science Fiction
Fix the past. Save the present. Stop the future. Master of science fiction Alastair Reynolds unfolds a time-traveling climate fiction adventure in Permafrost. 2080: at a remote site on the edge of the Arctic Circle, a group of scientists, engineers and physicians gather to gamble humanity's future on o ne last-ditch experiment. Their goal: to make a tiny alteration to the past, averting a global catastrophe while at the same time leaving recorded history intact. To make the experiment work, they just need one last recruit: an ageing schoolteacher whose late mother was the foremost expert on the mathematics of paradox. 2028: a young woman goes into surgery for routine brain surgery. In the days following her operation, she begins to hear another voice in her head... an unwanted presence which seems to have a will, and a purpose, all of its own - one that will disrupt her life entirely. The only choice left to her is a simple one. Does she resist ... or become a collaborator? ...Show more
$26.00
NZD
Category: Science Fiction
Robinson Crusoe on MarsA survival story for the 21st century and the international bestseller behind the major film from Ridley Scott starring Matt Damon and Jessica Chastain.I?m stranded on Mars.I have no way to communicate with Earth.I?m in a Habitat designed to last 31 days.If the Oxygenator breaks d own, I?ll suffocate. If the Water Reclaimer breaks down, I?ll die of thirst. If the Hab breaches, I?ll just kind of explode. If none of those things happen, I?ll eventually run out of food and starve to death.So yeah. I?m screwed.Andy Weir's second novel Artemis is now available   ...Show more
$24.99
NZD
Category: Science Fiction | Series: Rise of the Jain Ser.
A warship is laying waste to the galaxy, committing incredible acts of war. So old enemies must work together or face annihilation. This is the high-octane conclusion to Neal Asher's Rise of the Jain trilogy.Their enemy seems unbeatable. But humanity is indomitable.A Jain warship has risen from a prison five million years old, wielding a hoard of lethal technology. Its goal is to catch their old enemy, the Client, and it will destroy all who stand in its path.Humanity and the prador thought their mutual nemesis - the bane of so many races - was long extinct. But the Jain are back and Orlandine must prepare humanity's defence. She needs the Client's knowledge to counter this ancient threat. But is the enemy of your enemy a friend? Earth Central even looks to the prador for alliance. These old enemies must now learn to trust one another, or face utter annihilation.As the Jain warship crosses the galaxy, it seems unstoppable. Human and prador forces alike struggle to withstand its devastating weaponry - far in advance of their own. And Orlandine's life's work has been to neutralize Jain technology, so if she can't triumph, no one can. But could she become what she's vowed to destroy?"Neal Asher's books are like an adrenaline shot targeted directly for the brain." -John Scalzi, author of the Old Man's War series"Magnificently awesome. Then Asher turns it up to eleven." - Peter F. Hamilton on the first in the trilogy, The Soldier ...Show more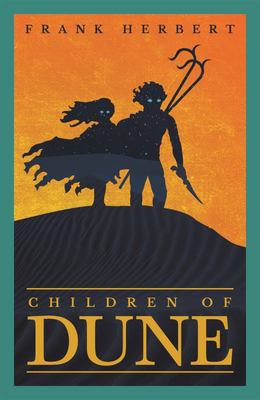 $27.99
NZD
Category: Science Fiction | Series: Dune Ser.
The epic that began with the HUGO and NEBULA Award-winning classic DUNE -- now a major motion picture from the director of Blade Runner 2049 and Arrival -- continues ... The sand-blasted world of Arrakis has become green, watered and fertile. Old Paul Atreides, who led the desert Fremen to political an d religious domination of the galaxy, is gone. But for the children of Dune, the very blossoming of their land contains the seeds of its own destruction. The altered climate is destroying the giant sandworms, and this in turn is disastrous for the planet's economy. Leto and Ghanima, Paul Atreides's twin children and his heirs, can see possible solutions - but fanatics begin to challenge the rule of the all-powerful Atreides empire, and more than economic disaster threatens ... ...Show more
$24.99
NZD
Category: Science Fiction
The extraordinary sequel to Dune. Twelve years after his victory over House Harkonnen, Paul Atreides rules as emperor from the desert planet Arrakis - but his victory has had profound consequences. War has been brought to the entire known universe, and billions have already perished. Despite having be come the most powerful emperor known to history, Paul is powerless to bring an end to the fighting. While former allies conspire to dethrone Paul and even his own consort acts against him, Paul accepts a gift from the Tleilaxu, a guild of genetic manipulators, hoping to find a single spark of peace and friendship amidst the betrayal and chaos. But this act undermines Paul's support from the Fremen, his own people. The Fremen are the true source of Paul's power; losing them is the one thing that could truly topple his empire. As matters escalate, Paul will be forced to chose between his throne, his wife, his people and his future - and the future of the entire universe. An epic novel of the cost of victory . . . and the price of war. 'Brilliant . . . it is all that Dune was, and maybe a little more.' Galaxy Magazine ...Show more
$24.00
NZD
Category: Science Fiction
________________________________________ In this pivotal prequel to Star Wars- The Rise of Skywalker, the heroes of the Resistance-Poe Dameron, General Leia Organa, Rey, and Finn-must fight back from the edge of oblivion. The Resistance is in ruins. In the wake of their harrowing escape from Crait, wha t was once an army has been reduced to a handful of wounded heroes. Finn, Poe, Rey, Rose, Chewbacca, Leia Organa-their names are famous among the oppressed worlds they fight to liberate. But names can only get you so far, and Leia's last desperate call for aid has gone unanswered. From the jungles of Ryloth to the shipyards of Corellia, the shadow of the First Order looms large, and those with the bravery to face the darkness are scattered and isolated. If hope is to survive, the Resistance must journey throughout the galaxy, seeking out more leaders-including those who, in days gone by, helped a nascent rebellion topple an empire. Battles will be fought, alliances will be forged, and the Resistance will be reborn. ...Show more