$19.99
NZD
Category: Fantasy | Series: Wings of Fire
Snowfall didn't expect to be queen of the IceWings at such a young age, but now that she is, she's going to be the best queen ever. All she has to do is keep her tribe within IceWing territory, where its safewhile keeping every other tribe out, where they belong. It's a perfect and simple plan, backed u p by all the IceWing magic Snowfall can find. That is, until a storm of unidentified dragons arrives on her shore, looking for asylum. The foreigners are completely strange and, Snowfall is certain, utterly untrustworthy. But as she escorts the miserable new tribes out of her kingdom, Snowfall is forced to reconsider her plan. Maybe she can only keep her tribe safe... if she's willing to risk everything. ...Show more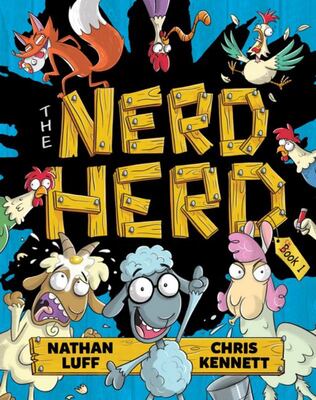 $17.99
NZD
Category: Humourous Stories | Series: Nerd Herd
Barny the Lamb and his friends are sick of being picked on. So they decide to form a gang to show everyone that they are not as soft as they look. But how do three fluffy friends stand up to a cunning fox, a gigantic cat, and a bull with behavioural issues?
$24.99
NZD
Category: Children's Fiction | Series: Ruby Red Shoes
From author-illustrator Kate Knapp comes this beautifully illustrated and charming picture book about Ruby, a very aware hare. Ruby Red Shoes lives in a colourful caravan with her grandmother. Ruby is gentle and kind and cares for all living things, including plants and trees, animals and people. Ruby is also particularly fond of strawberry jam and peppermint tea. ...Show more
$19.99
NZD
Category: Children's Fiction | Series: Five Nights at Freddy's Ser.
A pulsepounding collection! Series creator, Scott Cawthon, spins three sinister novella-length stories from di erent corners of FNAFs canon. Each story comes complete with accompanying artwork from a fan-favourite game artist, to bring the horror to life in a whole new way. Readers beware: In this start ling world, desperate wishes have an unexpected cost, beautiful trinkets reveal appalling powers, and harmless pranks can go awry in ghastly ways. ...Show more
$18.99
NZD
Category: Children's Fiction
School is back and after EDDY POPCORNS Guide to Parent Training was accidentally uploaded to the school blog, Eddys punishment isnt detention, but PUBLIC SPEAKING! Teachers are the WORST! Forced to face extreme HUMILIATION, Eddy decides to write his guide to avoiding classroom cruelty: Eddy Popcorns Gui de to Teacher Taming. Full of rule-bending tipsand rabbitsthis is every students guide to SURVIVAL! ...Show more
$16.99
NZD
Category: Children's Fiction | Series: HotDog!
Hotdog and his friends think they're headed for the hot sun and sand of Rainbow Island . . . but they end up in SNOWVILLE instead! Brrrrrr! Can they make the most of their icy holiday? And maybe even compete in the Snowville Games?
$16.99
NZD
Category: Children's Fiction | Series: Showtym Adventures
In the sixth Showtym Adventure, Vicki will stop at nothing to save a crippled beach-racing stallion. When Vicki and her sisters discover that horses are roaming on country roads because the locals can't afford to fences contain them, their eyes are opened to a whole new world of hardship. Then Vicki me ets Pepe, a prized beach-racing stallion crippled by mistreatment. The owner can't pay for a vet and, fearing the beaten horse may die, the Wilsons take Pepe in. Will Vicki be able to save the injured racer? And will Pepe accept his new life after galloping at full speed? This story of hope and recovery is inspired by the Wilson Sisters' early years. ...Show more
$19.99
NZD
Category: Classics | Series: The Famous Five | Reading Level: Children's - Grade 4-6, Age 9-11
Julian, Dick, Anne, George and Timmy the dog find excitement and adventure wherever they go in Enid Blyton's most popular series. Five On A Hike Together Dick is woken by a light flashing through his window. Is someone trying to send him a coded message? When the Famous Five hear of an escaped convict in the area, they are on red alert. Five Have A Wonderful Time The Famous Five are on an adventurous holiday in horse-drawn caravans. They discover a ruined castle that looks deserted. But is that a face at the window? Or is it a trick of the light? Just who is hiding in the castle? Five Go To Mystery Moor The Five find out about something dangerous out in Mystery Moor. They'll have to risk the treacherous mists and follow the trail if they want to find what's lurking in the shadows. Do they know what they've let themselves in for? This 70th anniversary edition features the Classic editions of three Famous Five adventures (books 10-12) in one volume and contains the original cover art and inside drawings by Eileen Soper. ...Show more
$19.99
NZD
Category: Classics | Series: Famous Five: Gift Books and Collections | Reading Level: 6-12
Julian, Dick, Anne, George and Timmy the dog find excitement and adventure wherever they go in Enid Blyton's most popular series. Five On A Hike Together Dick is woken by a light flashing through his window. Is someone trying to send him a coded message? When the Famous Five hear of an escaped convict in the area, they are on red alert. Five Have A Wonderful Time The Famous Five are on an adventurous holiday in horse-drawn caravans. They discover a ruined castle that looks deserted. But is that a face at the window? Or is it a trick of the light? Just who is hiding in the castle? Five Go To Mystery Moor The Five find out about something dangerous out in Mystery Moor. They'll have to risk the treacherous mists and follow the trail if they want to find what's lurking in the shadows. Do they know what they've let themselves in for? This 70th anniversary edition features the Classic editions of three Famous Five adventures (books 10-12) in one volume and contains the original cover art and inside drawings by Eileen Soper. ...Show more
$19.99
NZD
Category: Classics | Series: Famous Five: Gift Books and Collections | Reading Level: Children's - Grade 4-6, Age 9-11
Julian, Dick, Anne, George and Timmy the dog find excitement and adventure wherever they go in Enid Blyton's most popular series. Five On A Hike Together Dick is woken by a light flashing through his window. Is someone trying to send him a coded message? When the Famous Five hear of an escaped convict in the area, they are on red alert. Five Have A Wonderful Time The Famous Five are on an adventurous holiday in horse-drawn caravans. They discover a ruined castle that looks deserted. But is that a face at the window? Or is it a trick of the light? Just who is hiding in the castle? Five Go To Mystery Moor The Five find out about something dangerous out in Mystery Moor. They'll have to risk the treacherous mists and follow the trail if they want to find what's lurking in the shadows. Do they know what they've let themselves in for? This 70th anniversary edition features the Classic editions of three Famous Five adventures (books 10-12) in one volume and contains the original cover art and inside drawings by Eileen Soper. ...Show more
$18.99
NZD
Category: Fantasy
A powerful curse forces the exiled Queen of Faerie to choose between ambition and humanity in this highly anticipated and jaw-dropping finale to The Folk of the Air trilogy from a #1 New York Times bestselling author.   He will be the destruction of the crown and the ruination of the throne   Power is much easier to acquire than it is to hold onto. Jude learned this lesson when she released her control over the wicked king, Cardan, in exchange for immeasurable power.   Now as the exiled mortal Queen of Faerie, Jude is powerless and left reeling from Cardan's betrayal. She bides her time determined to reclaim everything he took from her. Opportunity arrives in the form of her twin sister, Taryn, whose life is in peril.   Jude must risk venturing back into the treacherous Faerie Court, and confront her lingering feelings for Cardan, if she wishes to save her sister. But Elfhame is not as she left it. War is brewing. As Jude slips deep within enemy lines she becomes ensnared in the conflict's bloody politics.   And, when a dormant yet powerful curse is unleashed, panic spreads throughout the land, forcing her to choose between her ambition and her humanity . . .   p.p1 {{margin: 0.0px 0.0px 0.0px 0.0px; font: 13.0px Times; color: #000000}} ...Show more
$19.99
NZD
Category: Children's Fiction | Series: Warriors Super Edition
An epic stand-alone adventure in Erin Hunter's #1 nationally bestselling Warriors series Also includes an exclusive ten-page Warriors manga adventure. In this Super Edition, set just after the events of A Vision of Shadows, ThunderClan deputy Squirrelflight is caught between her conscience and her Clan . Though all five Clans have settled into equally divided territories around the lake, tensions are rising over the new borders. And when a group of rogue cats move in just beyond Clan boundaries, drawing the Clans' frustration, Squirrelflight must choose between her duty as ThunderClan's deputy and her desire to do what's right. Join the legion of fans who have discovered the epic adventures, fierce warrior cats, and thrilling fantasy world of the mega-bestselling Warriors series. This stand-alone entry is perfect for new readers and dedicated fans alike. ...Show more